Rosehip oil is a great oil for all kinds of skin, but I will say that it's a little heavier than squalane oil and some other oils out there. Rosehip is high in antioxidants so it does help skin function better and is "antiaging", so you can use it day or night.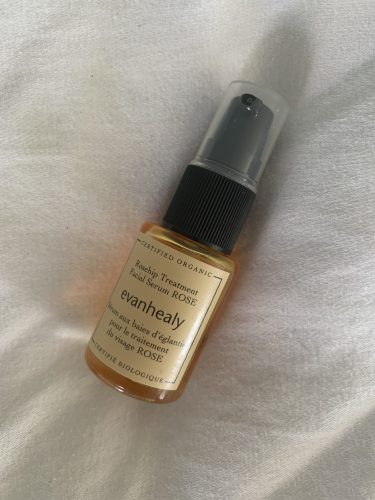 Evan Healy's Rosehip Treatment Serum (I tried it in the Rose) is a beautiful oil that you should use as the last step of your skincare routine. Because this is an oil and not a watery serum, you want to use it to lock in moisture that you've added into your skin instead of letting it evaporate.
The oil smells absolutely amazing – like lush roses that works with the rosehip's actual scent instead of trying to mask it. The entire Evan Healy line is meant to help you work with the natural cycle of nature, so it's nice that their oil also gives you a sensory experience that you can enjoy when you use the product.
You can get this oil online on their website. $34.95.