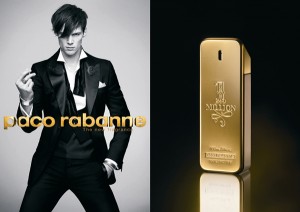 Paco Rabanne, the fashion designer, is launching a new scent for men this September called 1 Million.  After reading through the press notes, I have no idea where the idea to call it 1 Million came from or even what the 1 Million is.
The fragrance itself, however, comes in luxurious gold bottles and has sweet citrus top notes followed by rose, cinnamon, and spice notes. The drydown is leather, amber, and patchouli.
If you read all that and thought: wait, that sounds rather feminine, you would be right.  The smells so good that I want to wear it myself, but it is a masculine scent if a soft one at that.
The 100 ml Eau de Toilette is $112.  Available at The Bay.