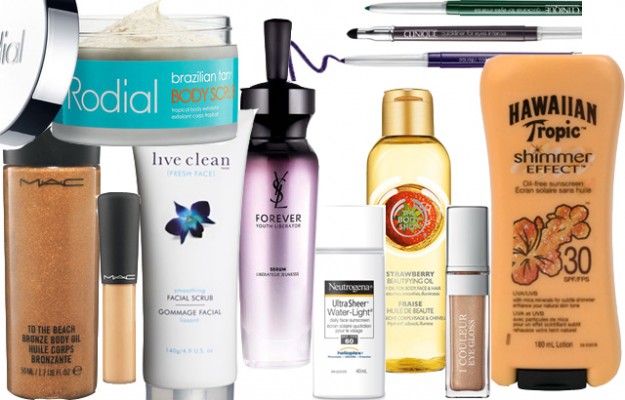 Here are my favourite 10 summer products that I'm going to be reaching for regularly this summer, and I think you'll love them too!
1. MAC Mineralize Concealer.  In an effort to streamline my beauty routine, I ditch the foundation and tinted moisturizer, and just mix a few dabs of this with my daily sunscreen.  Works like a charm, and I can customize the coverage depending on how my skin is doing that day.
2. Neutrogena Ultra Sheer Water-Light Sunscreen SPF 60.  Speaking of sunscreen, this is the one that I use to blend the concealer with.  It's not completely matte, but it's not greasy either, so my skin loves it.  Plus preventing sun damage means that my skin looks better and I need less of the concealer.
3. On my body I use Hawaiian Tropic Shimmer Effect Sunscreen in SPF 30.  I'm so glad that my favourite shimmer lotion now comes in a higher SPF, because this makes skin look ahhhh-mazing!
4. MAC To the Beach Body Oil in Man Rays is what I use when I want a bit more colour and still lots of shimmer.  This is a sheer oil that sets and again makes skin look like it's glowing.
5. The Body Shop Beautifying Oil makes my skin super smooth, and I'm already on my second bottle of it. Yes, I'm a little addicted to using this because applying oil is way easier than rubbing in a body lotion or body butter.
6. Rodial Brazilian Tan Body Scrub is minty so it cools skin down as you use it.  Application of sunless tanner is flawless after this, so I highly recommend it!
7. Clinique Quickliner for Eyes Intense is my liner of choice because it smudges when I want to and not at any other time.  Totally waterproof and smear-proof means this liner gets reached for every day.
8. And speaking of eyes, Dior's Eyeshadow Colour Gloss in Tan gives me sultry eyes no matter how dark my tan is.  And it lasts all day without me even using a primer!  Love this!
9. Live Clean Smoothing Facial Scrub is what I use to keep my skin super clear.  I can get away with using it daily on my oily skin, but those with sensitive skins might want to use it just a few times a week.
10. YSL Forever Youth Liberator Serum keeps my skin moisturized without clogging pores.