I already did my "best of 2013" list with Wynzie, but as I thought back to the products that I chose, I remembered that there are some brands that I keep coming back to and have used for the majority of the year, so I thought I would share those with you.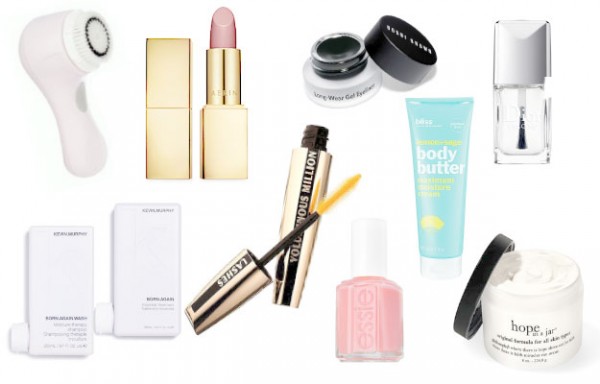 Here goes:
1. Philosophy.  Truly, it seems that this year I used a lot of Philosophy products on my face, and I'm pretty impressed with the quality and the price point.  I love any kind of exfoliator because it helps skin look clearer and more luminous and you can find Lactic Acid exfoliating creams through this brand.  Hope in a Jar in the daytime and night formulations are a prime example and they are amazing creams.
2. Dior.  I used a Dior powder foundation for the majority of the year, use Dior nail polish most of the time, and absolutely recommend the Dior Gel Top Coat.  Love a luxury brand that doesn't just rest on its name.
3. Clairsonic.  I started using a Clairsonic last year, and the newer Clairsonic Mia has been in my shower since I got it.  I don't travel with it, but the two weeks I've been without it over the winter break have made me realize how much I miss it!
4. Aerin.  The later half of the year saw me using Aerin's neutral/natural lipsticks and lipglosses.  I can't live without them.
5. Bobbi Brown.  Sometimes her foundation shades are too orange for me, but the formulations are amazing and the long-wear products are must-haves.  I'm also consistently using the Long-Wear Gel Eyeliner and love it.
6. Benefit.  Again, I used the Benefit Oxygen Wow foundation a lot this year and still recommend it highly.  I'm also using the Magic Ink Jet Black Eyeliner and the Stay Don't Stray concealer and eyeshadow primer.  They're Holy Grail products.
7. Bliss.  Their Body Butter is amazing and I've been using it since the summer.
8. L'Oreal Paris.  This was the year that I was smitten by many L'Oreal products which to me, shows that the brand is back in the game, especially with its mascaras.
9. Kevin Murphy.  I'm a Kevin Murphy brand ambassador, which basically means that I get a ton of products to try and I've been suitably impressed.  The Born Again line is seriously one of the most amazingly hydrating shampoo and conditioner duos out there.
10. Essie.  Next to Dior, I've been using a lot of Essie nail polish and I've loved every new collection over the past year.