Regular shoppers will have noticed that the Tanda is on sale at Holt Renfrew and now at Sephora. I own a system, and let me just say that it takes a LOT of time to use it and the results aren't as forthcoming as I'd like them to be.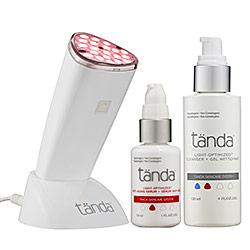 I press on this has said that you can see results (smoother skin, reduced inflammation, clearer skin) sometimes within 24 hours, but perhaps that is only in more extreme cases. I have found almost no reduction in anything after using this during problematic times, although a friend I lent it to saw a markedly significant reduction in swelling and his severe acne seemed to get a little better.
I have to follow up my own comments by saying that there is a ton of research that says that this technology actually does work and there have been clinical trials in hospitals where the Tanda did reduce swelling, but I think that if you really want this to work, you need to invest a significant amount of time and that's something that many of us just don't have.