I'm late on posting the best products of 2010, and this year I decided that I would just list my 20 best products instead of a different best for every category. The reason is that sometimes you're forced to pick a best, when there wasn't anything remarkable in the category.
All the products that I picked are ones that I would use again and again, and that I truly love and recommend to my friends.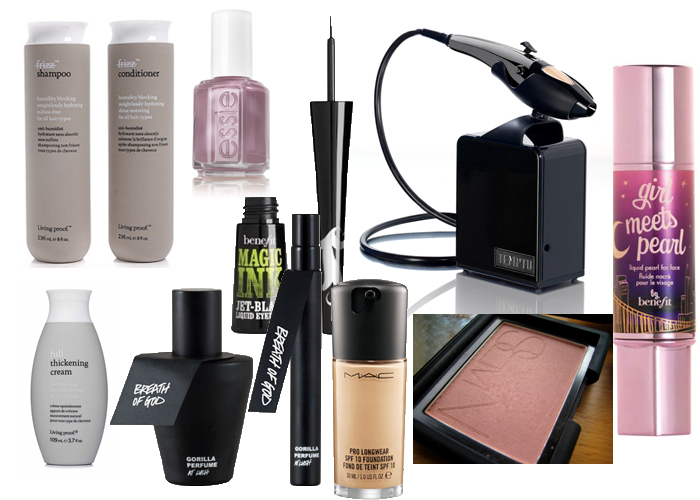 Share your favourites of the year too! I would love to see what they are.
1. Living Proof No Frizz Shampoo and Conditioner. I originally though the line was boring but I keep coming back to the shampoo and conditioner because it washes clean and leaves my hair so silky and smooth. Try these this year, even if you don't try any other product.
2. Living Proof Full Thickening Cream. I have super fine hair and so it's always a challenge to make it look more than it is. This cream does the trick and I apply it to my wet hair and then style as usual. More hair instantly!
3. Seche Vite top coat. I haven't written a review of this year, but it's magical. Go on vacation and have a perfect manicure for 2 weeks. It's that good.
4. Moroccan Oil. Again, another brand that I originally dismissed, but I have come to the decision that every single product in the line is genius.
5. Silk'n Sens Epil. Another product I haven't reviewed yet, but I have to say that it works as long as you're consistent and careful. A good investment.
6. Lush Gorilla Perfumes. I cannot get enough of these. Seriously well-made and affordable! Get a large bottle of your favourite one and then watch the compliments roll in.
7. Benefit Magic Ink liquid liner. This is a rich black that stays put all day, and made me join the liquid liner bandwagon after resisting for so long.
8. MAC Pro-Longwear Foundation. I can't believe that my favourite foundation of the year is by MAC! I have resisted their foundations for a few years now and never found anything amazing until this one. It lasts the whole day, keeps the oilies at bay, and looks natural! Get compliments on your skin – use this!
9. Pure and Simple Pitta Sensitive Skin Face Oil. I never thought I would ever want to go to bed with oil on my face, but this one actually keeps my skin super clear! It smells bad and I still use it!
10. L'Oreal Extra-Volume Collagen Mascara. This works and is a deep dark black to boot. Adore this mascara!
11. MAC Beauty Powder in Her Own Devices. I use it as a natural looking blush and it's sheer enough to do that.
12. Benefit Girl Meets Pearl highlighter. A cream that's natural looking and easy to use. Thank you, Benefit!
13. Quo Lipgloss in Beige. The best neutral gloss I have ever found. I am excited for more Quo products in 2011 because they have made quite a comeback in the beauty department!
14. Tarte Lip Gloss. This was a godsend this winter season and it's so moisturizing. My favourite lip gloss, almost every colour is wearable for many skin tones.
15. NARS Blush in Douceur. An awesome colour that's neutral and perfect for every day.  This was released this year as part of their fall makeup collection.

16. Temptu Airbrush Makeup. This is a must for special occasion makeup, and though it is on the bulky side, I take it with me on trips where I want to look flawless.
17. Burberry Makeup Collection. In Canada, this is available only at 2 Holt Renfrew locations but it's worth ordering in without even trying. The makeup looks natural and flawless and I got tons of compliments on how amazing I looked when I used their products. This is definitely the winner for best overall makeup line, and is pushing previous winner Giorgio Armani.
18. Essie Nail Polish in Demure Vixen. I absolutely adored this colour and wore it for weeks on end.  It came out as part of Essie's summer collection.
19.  Yves Rocher Top Coat. For the money, this is the best top coat you can buy.  Cheaper than Seche Vite and much easier to use.
20. Hawaiian Tropic Continuous Flow Moisturizer. I didn't review a whole bunch of moisturizers this year, but this one won for scent and feel.  It was an unexpected product from a sunscreen company!