Seriously, if you can find a tinted sunscreen to match your skin tone (and they're making them in darker colours now), then a tinted sunscreen is the way to go; and with the popularity of BB Creams, sunscreen-containing tinted moisturizers are making a comeback. Here are 3 new ones that are awesome enough to pick up.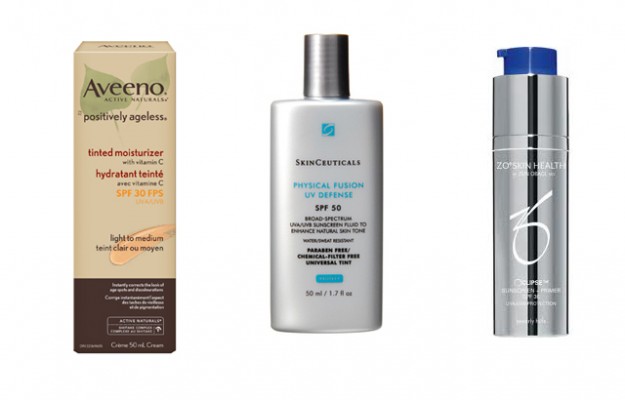 1. Aveeno Positively Ageless Tinted Moisturizer SPF 30 (Light to Medium Tint). I don't know why they bothered putting "Light to Medium" on this tinted moisturizer, because with that label the implication is that there are other colours available too – and there aren't. This tinted moisturizer comes in just one colour but it has the perfect amount of coverage – sheer, yet totally there. My favourite thing is that the colour of this moisturizer is warm – not pink or even a bit ashy – so it really works for a natural summer look. It works on its own or with foundation on top, and the SPF 30 is awesome for everyday. The drugstore price of about $20 also can't be beat.
2. ZO Skin Health by Obagi Oclipse Sunscreen + Primer SPF 30. I absolutely adore this sunscreen. Once I wore it out without makeup on top, and ended up going to the gym. Even after an intense cardio workout, I found that this sunscreen was stuck to my face, kind of like glue! Those with oily skin will absolutely love it. It totally absorbs any kind of oil and just stays put on the skin. It's tinted too, so it won't leave a whitish cast on your skin. $78 at dermatologists' offices and most med-spas.
3. SkinCeuticals Physical Fusion UV Defense SPF 50. Wary of using any kind of broad spectrum sunscreen because of the whitish cast it could leave on the skin? Well, then this one's for you. Physical Fusion looks and feels almost like a light tinted moisturizer – it has a light beige tone that disguises imperfections, while providing long-lasting sun protection on your face. It also works as a primer because it's a blend of silicones (the ingredient found in the ever-popular Smashbox primer), and will absorb oil throughout the day. $39 available through selected distribution channels via dispensing doctors, medical spas and high-end spas across Canada.