Read these reviews before you go buy your lippies.
It's spring, and that means that I want to wear more colour on my lips but without the fuss of lipstick.  If you're like me, lipstick is for special occasions, but for everyday it's nice to have a glossy balm that has a punch of colour.   Check out our reviews of these new lippies before you head out to pick up your own.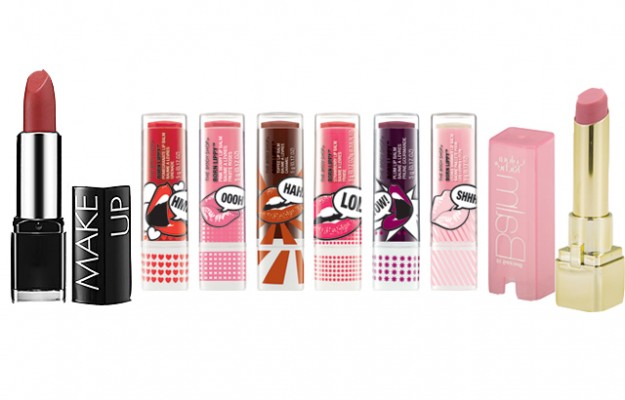 1. Make Up For Ever Rouge Artist Natural ($22).  Our favourite foundation brand now has a lipstick that has a soft shiny finish.  The Rouge Artist Natural has sheer colour instead of a matte opaque finish that's perfect for the spring and summer.  It's a fresh look available in 50 shades.  If you have something specific in mind, this is the line you'll want to check out.
2. The Body Shop Born Lippy ($6).  The Body Shop has re-released their Born Lippy lip balm in six new balm sticks.  The colour is super sheer, but the moisturization is definitely there.  If you have ultra dry lips, this is one you'll definitely want to pick up.  These are available in a pot as well, but we prefer the sticks for mess-free fingers and hygienic application.
3. L'Oreal Colour Riche Balm ($6).  These are lacking in both pigmentation and moisturization and so they are our least favourite of the balm-tint products.  The formula is waxy, and so although it feels moisturizing on the lips, the final effect is anything but long-lasting moisturizing.  As I said earlier, these have just a hint of hue, so don't expect a pop of colour when you wear them; that said, because the formula is waxy, you can layer them a little bit and add more colour that way.