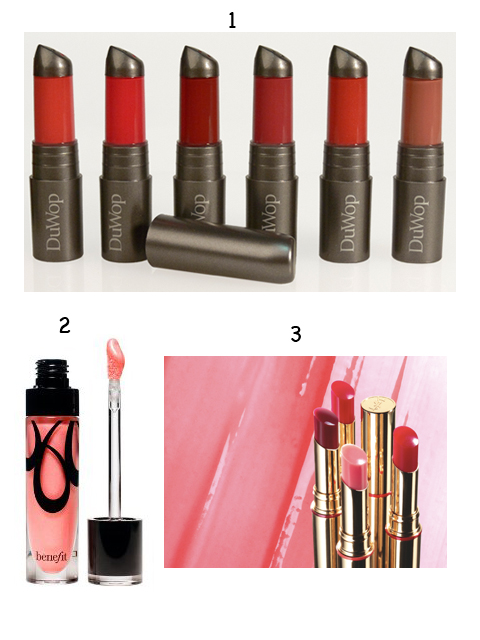 As much as I try to wear lipstick, I'll always be a gloss girl. Lucky for me, there are three new glosses this fall that add some oomph to my already huge lip gloss collection.
1. . Duwop's LipMousse. I'm a huge fan of products that are both lipsticks and glosses in one product, and this is what we're getting with Duwop's LipMousse. Think of them as melted lipsticks because they have a waxy consistency that wears more like a lipstick than a gloss.
Unfortunately, I've found that the applicator for this isn't the best – it is often leaky and messy but the colours are so rich and wearable, that once you clean up any messiness, you'll want to use this product and will figure out how to keep it clean.  The best way to use this is with a lip brush or using your fingertips. It can give you a lovely stain of colour that you can then top off with another gloss or leave as is. My favourite colour is Sorbet which is a pink coral that's very pretty.
I really like using Lipmousse! It's just not what they say it is. Retails for $25 at Shoppers Drug Mart BeautyBoutiques.
2. Benefit's new Love Your Lipgloss. If you're tired of stickiness, head to the Benefit counter. They've reformulated their glosses so that they're non-sticky but have great shine and colour payoff. My favourite thing about them is that they're very sparkly. Yes, it's not for everyone, but when you want to put some drama on your lips, I turn to these glosses.
3. Gloss Volupte from YSL. SL's Gloss Volupte does not disappoint. It's a jelly-like stick that gives a sheer pop of colour and even tastes good! This slides on easily and is sheer but pretty. There are four colours available: Iced Lychee, Frozen Cherry (which I have), Chilled Raspberry, and Frosted Plum. Plus, it has SPF 9. Lovely and worth every penny. $35 at your local YSL counter, which I think is a great price for YSL (which will be at Holt Renfrew if you're in Canada).