I know that I go on and on about having oily skin, but the fact of the matter is that even my skin needs some TLC, especially when the temperature drops!
Here are some of the best products for dry skin: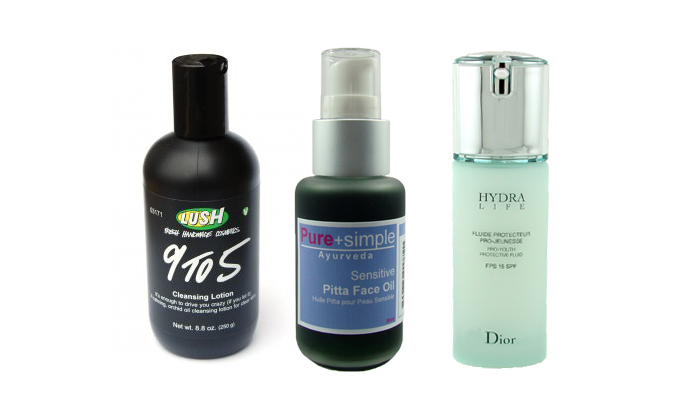 1. Lush's 9 to 5 Cleanser. This is a liquid cleanser that's so gentle on the skin.  Instead of foaming and having harsh chemicals in it, the cleanser contains an almond oil emulsion to gentle melt off makeup and dirt, leaving your skin soft and smooth.  Rinse if you must, but you can also tissue this off to give your skin some extra love.  Oily-skinned gals can use this to remove makeup and then follow up with another cleanser.
2. Pure and Simple Sensitive Pitta Face Oil.  If you have skin that breaks out, then the Pitta Oil is for you.  I know that putting oil on break outs seems counter-intuitive, but this stuff actually works!  It's a jojoba oil base and that means that it has the consistency of oil that's naturally on your skin.  I've found that putting oil on my skin at night actually makes me less oily in my t-zone during the day and I haven't once broken out from using it.
3. Dior Hydra Life Protective Fluid with SPF 15.  I have fallen in love with the entire Hydra Life line this year.  In the summer, I used the tinted moisturizer.  If I'm going for a night out, I like the gel under makeup (a Holt makeup artist recommended this to me), and now that I'm indoors more, I use their moisturizer that has SPF.  The 15 rating is perfect for this time of year, because it gives me just enough sun protection, plus it's slightly matte so makeup goes on top nicely.  It's great that I can treat my skin right but also get that sun protection in.