Summer is officially upon us, and the easiest way to protect yourself is by using a spray sunscreen.  Fool proof coverage that you don't have to bother rubbing into your skin, means that there's a higher chance that you'll actually use it.
Here are some that you should check out… and some that you may need to avoid.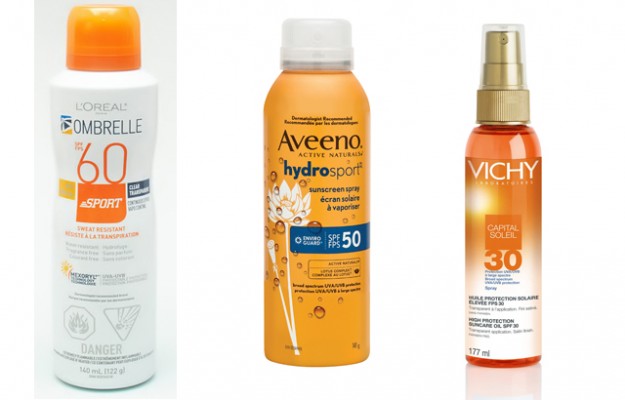 I'll start with my favourite: Ombrelle's Continuous Spray Sunscreen with SPF 60.  The sunscreen is light, weightless, and non-greasy.  It has no overpowering scent, which makes it perfect for both the sexes.  At $21, it's not the cheapest kind you can buy, but it's still not over-the-top expensive and easy to find at the drugstore.  Try this one: you'll love it.
I also tried Aveeno's Hydrosport sunscreen in SPF 50.  The sunscreen has a bit of an oily texture, but it's not something that's overly annoying so I didn't mind it too much.  What I did mind was the overpowering scent of this sunscreen which made me want to shower so that I could escape the smell.  Friends that were with me and wore this noticed that the scent didn't lighten as the day went on, which just made it irritating and unbearable.  (About $18 at the drugstore.)
On the other hand, there's Vichy's new Capital Soleil High Protection Suncare Oil SPF 30 ($29.95).  This is the first dry oil sunscreen I have tried, and just by looking at the clear bottle, I could tell that there wasn't going to be any whitish cast to this one.  The dry oil is dry… so it's not moisturizing at all. If you want moisturized skin, I would suggest using a moisturizer first, and then applying this sunscreen on top.  The oil is easy to spread and quickly absorbs into skin.  It provides decent sun protection while making skin look healthier.  Right now, this would be my go-to sunscreen if I was wearing a skirt or shorts, because I could get sun protection without compromising on my tan!