Maybe you're tired of me talking about sunscreen, but I think I'm almost done because I've tried so many awesome new formulas already this summer.  That being said, sometimes putting sunscreen on again and again is a pain, especially if you're having what I like to call a "lazy day".  So here are 3 options for those days: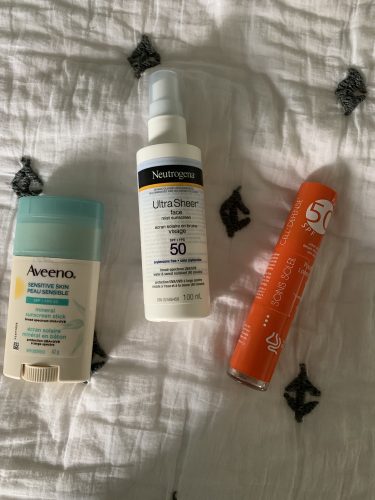 Laboratoire Dr. Renaud Loose Powder SPF 50 Sunscreen.  Come in Light and Dark colours –  I have the dark and it is quite sheer, so if you're even a bit tan, go for this colour.  $57.96.
2. Neutrogena Ultra Sheer Face mist sunscreen.  SPF 50.  You could spray this on top of makeup in theory, but it's a bit greasy.  I just use it when I'm too lazy to use lotion sunscreen and I do love that it's sheer. $13.37 at the drugstore.
3. Aveeno Sensitive Skin Mineral Sunscreen Stick.  This has a whitish cast, but that means that you can see it exactly where you're putting it, and it's actually sheer once you rub it in. $13.97, online and in drugstores.
You can watch the video to see these sunscreens in action: