With the focus on skin this season, pretty is perfection. Here are five ways to get there.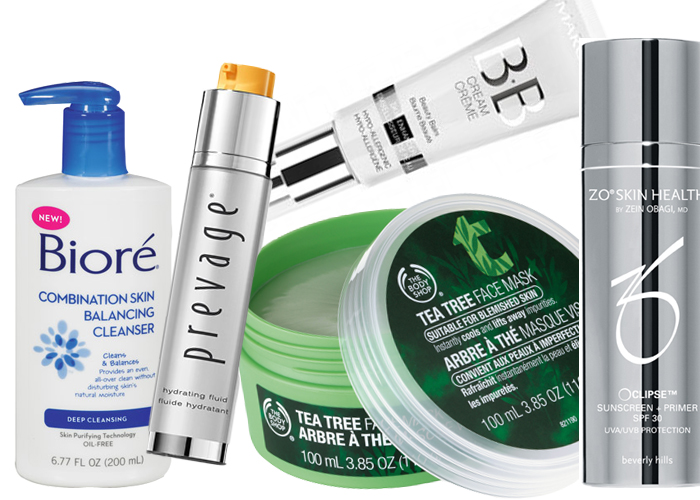 1. Yes, this is going to be the year you was your face before going to bed – every night! Do it with Biore's Skin Balancing Cleanser specially made for combination skin, which is probably the skin type of 70% of women in their '20s.  It's from the company that's made it's name by making cleansers that leave skin super clean and it won't disappoint. The lovely gel foams, and takes away every last trace of makeup.  Biore has a new clean updated look this year, but the products inside are still awesome.  Plus, for only $9.99 this is almost a steal.
2. Now oily skinned girls don't have an excuse not to moisturize thanks to legendary Prevage's new formula. The Hydrating Fluid is a gel that sinks in for long-lasting benefits without being sticky, tacky, or greasy.  It's chock full of antioxidants and promises to preserve skin.  We loved it in this crazy dry weather and we think that you will too.
3. The new matte skin isn't achieved thanks to heaps of powder. Instead make sure you use a mattifying mask at least once a week to get poreless skin.  Try The Body Shop's Tea Tree Face Mask which has organic Tea Tree Oil in it.  $15 at The Body Shop.
4. This will also be the year you decide to wear more SPF. Obagi ZO Sunscreen + Primer SPF 30 so those of you into multitasking can get on with your day. You can also rest easy with the knowledge that this product is formulated by famed dermatologist Dr. Obagi who makes skin glow. For $78 this is only available at Dermatologists' offices and at medi-spa
5. Marcelle's BB cream is another way to make your skincare do more. This cream leaves your skin nice and matte, plus enriches with antioxidants and doesn't mask the way that foundation can – perfect if you can find the right shade since this one only comes in 2 and both of them are on the light side.  The cream doesn't hit counters until February, but you can buy it online NOW from Marcelle's website.  Get in on the one product that everyone is talking about!  $22.95 at drugstores or online.