The folks over at Perfect Image sent me this 50% Glycolic Peel, and wow, it was my first time trying something that is so strong.  Usually, in Canada, a 50% peel is only something that you can get in a skincare professional's office, but you can get this one online from the Perfect Image website.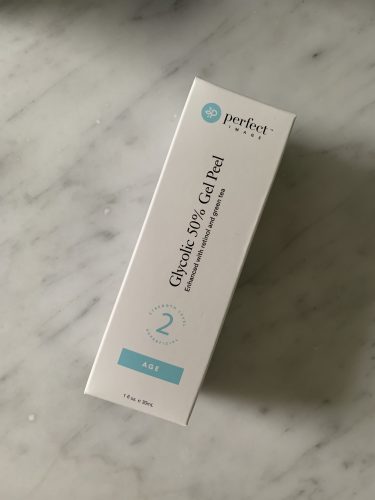 The directions for using this peel are pretty simple – apply via a cotton pad, let sit on skin for 1 minute and then wash off.  You can layer on more as your skin builds a tolerance, but I don't know if that will ever happen, since 50% is quite strong.  My advice would be to do this more times a month, if your skin builds up tolerance, instead of applying more and for longer.
This seriously stung my skin when I applied it and I washed it off after 45 seconds.  I got close to the minute recommended but not quite.  That's something I will work up to.  That was enough for me.  I don't know if I can see the results yet, as it can take about a week to really see exfoliation on your skin, but my skin has been pretty dry this week so I'm guessing that's what it is.
$29.95 online.