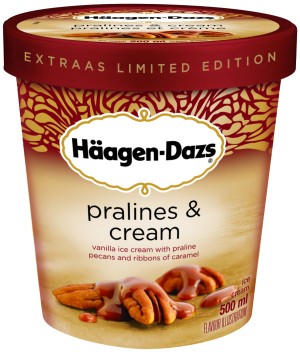 This year, Haagen-Dazs celebrates its 50 year anniversary and you'll be surprised to know (well, I was anyway) that the brand is actually from the U.S. and not from Denmark or any such place.  Haagen-Dazs traces its history to New York state, and though it was started by a family, it is now owned by Pillsbury.
They began selling premium ice cream at a time when the economy was actually hurting and other brands were putting out cheaper products.  It turned out that there was a place for really good ice cream, and so the brand has been able to stay around by focussing on quality and offering their product in other countries.
It's no good for my diet, but I've been eating the two new flavours that Haagen-Dazs has re-released: Chocolate Chocolate Chunk, and Pralines and Cream.  Without a doubt, although we all love chocolate, the Pralines and Cream is a hit in my house because of the ribbons of gooey caramel that go throughout the ice cream.  Amazingly, the caramel doesn't freeze in the freezer, and stays soft with the cold ice cream.
Haagen-Dazs also has half the fat ice cream, which is probably what I should be eating instead.