Lipgloss, lipstick, lip balm – whatever your preference, it's safe to say that you never leave home without it, have lots of it stashed in your car, your purse, your desk, and are constantly on the lookout for something better, brighter, more "you".  Here are my favourite lip products right now – check them out, I'm sure you'll find something you love too!  And I'd love to hear which ones are your favourite so please let me know in the comments!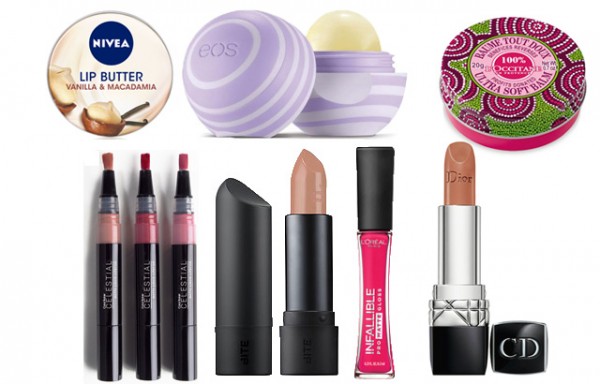 Nivea Lip Butter.  When my lips are awfully dry, I turn back to this no nonsense little tin.  It's so emollient and great on my cuticles too, plus it's super cheap and it works!
Eos lip balm.  Great for keeping around the house because I don't mind if my kids are using copious amounts of it since it's all-natural.  I love any and every flavour but the traditional mint is my favourite.
L'Occitane Ultra Soft Balm.  Out right now in a limited edition Rose scent, this balm has a shea butter base that melts with a little work with your fingertips.  I love that it smells so chic and doesn't have any shine so it layers well under lipstick.
Bite Amuse Bouche lipstick.  Honeycomb and Chai are my go-to shades right now, and I actually even love them both layered!  The citrus oil has a pleasant kick and this lippie lasts a long time on my lips.
Dior Rouge lipstick in Paname.  From spring 2015, this lipstick is a warm beige rose that looks nude on me.  I love it with a smokey eye and even with a pared down smoky eye that consists of just a cat eye with black eyeliner.  The formula is slick and buttery, intensely moisturizing and super easy to wear which makes this lipstick a one that I love to reach for.
L'Oreal Pro-Matte gloss.  I reach for this when I want the look of a lipstick but my lips are too dry for one.  This is a gloss with no shine and a matte look!  The feel is still emollient like a traditional gloss, but it doesn't reflect any list!  I use it in nude colours because I find the bright shades move around too much and they're ones that should look absolutely perfect.
CBV Matte Liquid Lipstick.  I love that these creamy matte lip creams are the rage right now.  They dry on the lips and last absolutely forever.  The brush applicator makes for convenient application too.