I love this time of year because I can stock up on gift sets. They are perfect for handing off to a co-worker or keeping on hand to give to that random friend who ends up inviting you to their Christmas party. Gift sets always please which means that you look good when you give them!
Check out my favourites this year: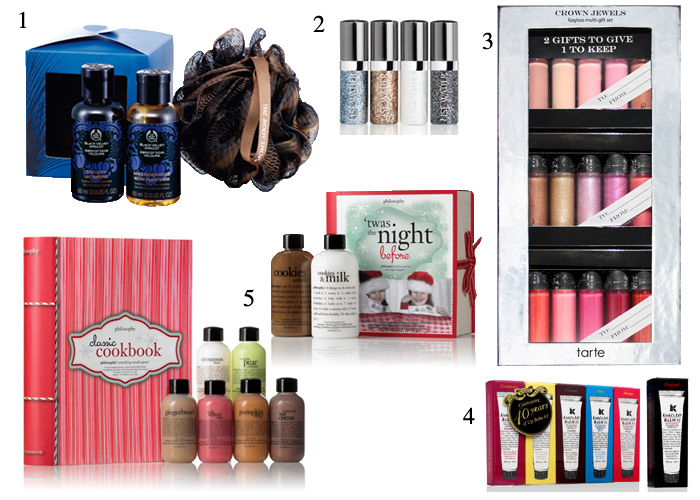 1. The Body Shop Black Velvet Apricot Gift Set. The Body Shop is one of my go-to destinations for getting gifts, because everyone loves their fruity scents, and their Christmas offerings are real people-pleasers. Be aware that this year, they have changed their traditional Vanilla Spice body care products into Vanilla Nutmeg products. The scent is more subtle and not as long lasting, but the vanilla notes are there and that is what drew me to them year after year in the first place. Their Black Velvet Apricot line is for those that don't love the sweet vanilla scent. The Black Velvet Apricot is only mildly fruity and has a touch of smokiness to it. When I wore the body butter, people told me that I smelled lovely and that enough is reason to get it for someone – so you get to smell it while they're wearing it!
The Body Shop body butters are $20 each and the Black Velvet Apricot gift set you see above is a very reasonable $15.
2. Lise Watier Mini Glitter Trio. I'm always amazed when even some of my Canadian friends have not heard of Lise Watier, and then it's their turn to be amazed when they find out how awesome the products are.  Expect top quality when you get anything from this brand but they're not stuffy at all and this mini glitter trio proves it!  The Lise Watier glitter is in eyeliner form, which means easy application anywhere you please.  The Eye Glitters will last a long time, and for $29 are excellent value!
To find a retailer near you, check out their website.
3. Tarte Crown Jewels. I love that Tarte has branded this as "2 to give, and 1 to keep" because that means that I don't feel guilty keeping one set of lip glosses for myself!  In this gift, you get 3 sets of 5 lipglosses and for $40 it is almost a steal.  It means that you can spend less than $15 on each set, and the recipient won't even realize what a great deal you got!  Plus with so many glosses, you can be sure that there's at least one that you friend will like.  Tarte is available at Sephora.
4. Kiehl's 40th Anniversary Lip Balm Set. Kiehl's has had their amazing lip balm on the market for 40 years, and to celebrate the fact, they have put together a wonderful set of their different flavoured lip balms!  This is a $50 value available for only $35 and it's fantastic to give because it's not super personal and the balms don't have any colour to them. Available everywhere Kiehl's products are sold, including Holt Renfrew!
5. Philosophy Twas The Night Before and Classic Cookbook gift sets. You gotta love these sets because nobody can jazz up body washes the way that Philosophy can.  The smaller-sized body washes (usually only available at holiday time) come in their own gift-able box which makes them convenient to pack.  The Classic Cookbook gift is especially cute because the cookbook opens up like a real book and the body washes are inside!  Both gifts are great for budding or expert level cooks, who already have too much in the kitchen.
The Classic Cookbook is $46 and Twas the Night Before is $26.  Both can be found easily at Sephora.
Enjoy!