We know that the battle with your skin is always ongoing, and trust me, we've been there and back with skin care products that promise the moon and don't provide. That's why we love products that have active ingredients that have been clinically proven to improve your skin. We checked out the latest products and picked a few that will help you get clearer skin.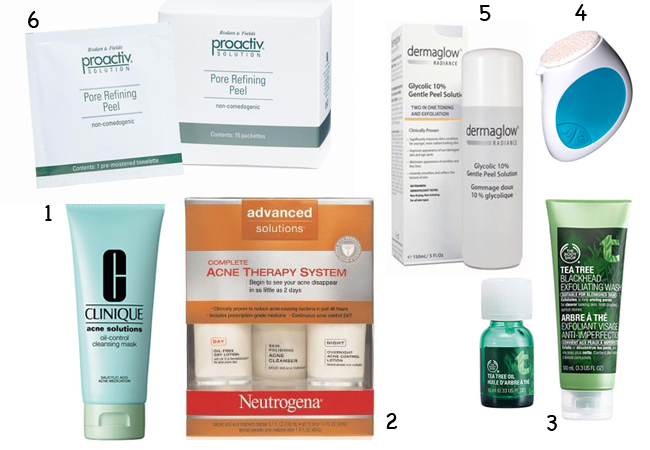 1. Clinique now has an Acne Solutions Oil-Control Cleansing Mask and it is the first anti-acne mask that hasn't made my skin overly dry. It seems to absorb oil and get rid of impurities but it doesn't cause any dry patches which is pretty great! The mask also contains salicylic acid that helps keep pores clean.
The mask retails for $26.00 and is available at Clinique counters everywhere.
2. If you're more of a drugstore shopper, then check out Neutrogena's Rapid Clear Complete Acne Therapy System. You get 3 great products in one kit. There's a day lotion that has SPF 15, a cleanser that has microbeads in it, and best of all, a night lotion that's 3% benzoyl peroxide. This means that it probably won't be strong enough to really dry your skin out, but it will be able to kill bacteria and help you get rid of break outs. The Acne Therapy System is available at drugstores everywhere.
3. We've always been a fan of The Body Shop's Tea Tree Oil range. The tea tree oil is a natural anti-bacterial agent and so it kills harmful bacteria that can cause flare ups. We like their 15% tea tree oil for spot treatments, and recommend washing with their Tea Tree Blackhead Exfoliating Wash. The face wash is creamy so it takes off makeup really well, but it has tea tree oil so it's not making me break out. I'm even starting to love the tea tree smell, if you can believe it. The best part? Both products, as well as the entire tea tree range is made of organic tea tree oil.
4. Our favourite exfoliator, the Neutrogena Wave has gotten a makeover! It now comes with the ability to vibrate in 2 speeds – if you want a more deep cleaning action, you can make it go faster with just a touch of a button.
As always, it's water-resistant and really does work at exfoliating skin and getting rid of any dry spots, makeup, and dirt.
Available for $12.99 at your local drug store.
5. It's almost impossible to find a 10% Glycolic Acid lotion or toner out on the market, but now Dermaglow has an answer: Radiance Glycolic 10% Gentle Peel Solution.
The solution is liquid yet thick and is meant to be applied on the skin with a cotton ball. It helps get rid of dry dull skin when you use it, and the liquid solution layers well under your regular daytime or night time moisturizer.
You can find this at drugstores throughout Canada, and 150 ml retails for $50.
6. If you have sensitive skin, a 10% peel might not be the right product for you. ProActiv has a new Pore Refining Peel that's 5% glycolic acid and comes in convenient, easy-to-use pre-moistened pads. The peel retails for an affordable $20 for 15 packettes. Use it once a week and you will definitely notice a difference.