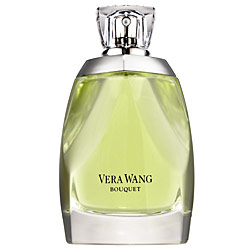 As soon as I heard the name Vera Wang Bouquet, I knew that it would be a fragrance that matched up to my tastes.  I love the floral scents in the summer.  After reading the notes – blackcurrent, and honeysuckle with bases of teak and woods, I knew I was in for a treat.
It's true, this scent is already one of my favourites and I like it so much that I can wear it almost every day.  It has great lasting power, it's a parfum, and although the top notes are a little too generically floral, it's the combination of those with the base that makes this fragrance smell so good.  It's a fresh green scent that reminds me of freshly cut grass and a garden after a rainfall. It lasts the whole day on me, and it's one of those that I wish I could douse myself in.
Check out Vera Wang Bouquet if you want a nice floral scent.  Available online.