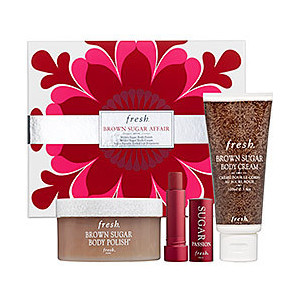 Ok, so this season, it seems that it's my time to try some cult favourite products and next on the list is Fresh's Brown Sugar body cream which, thankfully doesn't smell like brown sugar, but instead smells like the Brown Sugar scrub which is a sweet lemon scent that's mouthwatering.
The Brown Sugar Affair gift set features some amazing products: a full sized Brown Sugar scrub, a Brown Sugar Body Cream, and a NEW Sugar Passion Lip Tint which is a great bright red tinted lip balm.  It's perfect for everyday, or a good alternative for those who don't like wearing bright lipsticks.
Pick this up at Sephora!