#SorryNotSorry for all the sunscreen posts.  I've been using sunscreen diligently – on myself and the kids – as part of a quest to get out of the house more and be out and about with the kids.  I mean, I try anyway, but in the winter, it's easier to make an excuse and just stay indoors.  The weather has been so nice that there's really no excuse anymore and so we have been going through copious amounts of sunscreen.
Of course, one of the challenges is to find a sunscreen that protects but doesn't show up as white, and isn't greasy, so that I actually want to use it.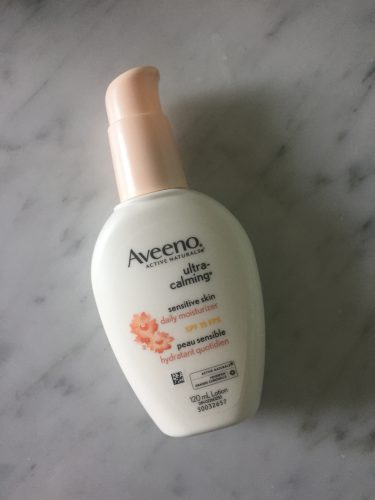 The Aveeno Ultra-Calming Sensitive Skin Daily Moisturizer with SPF 15 is a winner.  Not only does it rub into your skin easily, but it does absorb into your skin with a non-shiny soft and smooth finish.  I have oily skin and this works for it – if you have dry skin, you are going to need something that's more hydrating underneath.
I put it on my face, continue on to my neck, my shoulders, arms, and hands and then I'm ready for my day.
$19.97 in drugstores and mass merchandisers.