Thank you Skin Republic for making these Foot Peel masks which are basically a pedicure in a mask – actually, they're better – and CHEAPER – than a pedicure because they do a better job and last longer!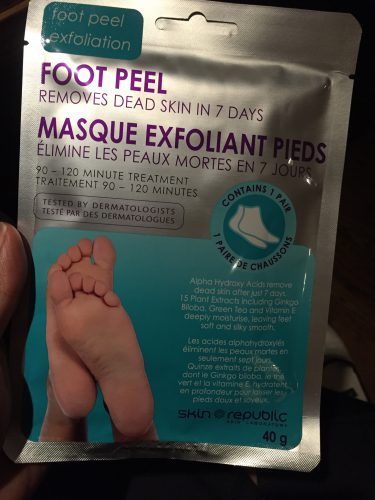 The Foot Peel mask (some of you may have heard of the "Baby Feet" mask that you can get on Amazon) basically is a baggie that has really strong chemical exfoliant in it.  You put the baggies on your feet and let the exfoliant do its job for 60-90 minutes.  7 days later, the skin on your feet starts to peel of in an intense way and you can let it fall off on its own, or help it along with a washcloth or any kind of scrubbie.  The amount of skin that comes off is so much more than what they get to at the salon.  For example, during a pedicure, they might get to my callouses, but they never exfoliate the base of my feet because I'm too ticklish.  Now, all that comes off on its own after using the Foot Peel Mask.  It's amazing.
The mask takes 7 days to work, it takes a few days for the dead skin to be completely off and during that process, you probably don't want to wear open-toed shoes – it's pretty gross to look at.  But once it's done, your feet are soft and smooth for a few weeks, especially if you keep up your moisturizing.
Lactic Acid and Glycolic Acid are the main ingredients, and I don't have sensitive skin and I didn't experience any tingling or burning when I used these.  It's a hassle to keep the booties on for 90 minutes but I did it while I was watching a movie, so the time went by pretty fast.  It's totally worth it and I'm going to keep these on hand and do them on a regular basis because the results are totally worth it.
The Skin Republic mask is just $16.  Get them from The Bay.