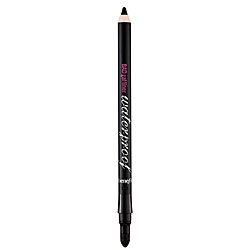 Some women like liquid liner for a nice clean look, and some like a rich black liner that's smudgeable.  If you belong to the latter group, you should check out Benefit's BADgal Liner.  You can smudge it if you move quickly but if you just apply it as is, you can get a clean line that lasts the whole day.
Unlike most waterproof liners, the colour of it is a nice rich black that stays black for the whole day!  Also available in brown, blue, and purple, but I'm loving the nice rich black.
This is available everywhere Benefit products are sold, including Sephora and Shoppers Drug Mart.
$27.