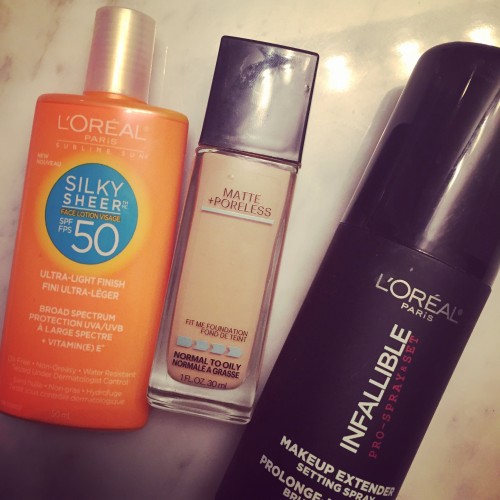 So I've figured out the recipe for long-lasting flawless makeup, and you don't have to spend a fortune for it.  It all has to do with finding some products that work well together and with that, I'm going to help you.
First, you need some sort of primer for your face.  I resisted the idea of primer for many many years because I thought I didn't need it, but you know, often-times primer can come in the way of a good moisturizer, and that's something most people can relate to.
Because I have oily skin, I save the heavy moisturizing for night-time, and these days I'm opting to use an SPF under my makeup because of the more daylight hours that we're getting.  My SPF of choice is the L'Oreal Sublime Sun Silky Sheer SPF 50 Face Lotion.  This is an extremely light formula that really goes on smoothly and feels slightly oily and slightly moisturizing, but sets to a pretty matte silky finish.  If you wear this on its own, you'll be surprised at how smooth and silky your face feels every time you touch it, and it goes on without a white residue despite having an SPF 50. For about $13 at the drugstore, it's worth the price and the tiny bottle will mostly likely last 2-3 months.
Then I use a matte-finish foundation.  As much as I like a little glow sometimes, I like to have the option of adding that in, instead of having it as a default.  My foundation of choice these days is the Maybelline Fit Me Matte and Poreless foundation.  It doesn't have tons of coverage (medium-light) but it comes in a colour that matches my skin exactly – I wear 220 Beige, which is warm without being yellow or orange so I love that.  It blends easily on top of the sunscreen and seems to last a while.
After that, I powder with L'Oreal Infallible Pro-Matte powder foundation, which doesn't have the coverage of a real foundation, but I use it sparingly and mostly just on my forehead and nose. 
Then I use a setting spray: again, turning to L'Oreal Infallible again because the Pro-Set and Spray works and I've gotten a little attached to it.  It's light and refreshing to spritz on and doesn't have a shiny finish like some setting sprays can have.  You really can't over-do this one so feel free to get it on everywhere.
Try out these products and let me know what you think!