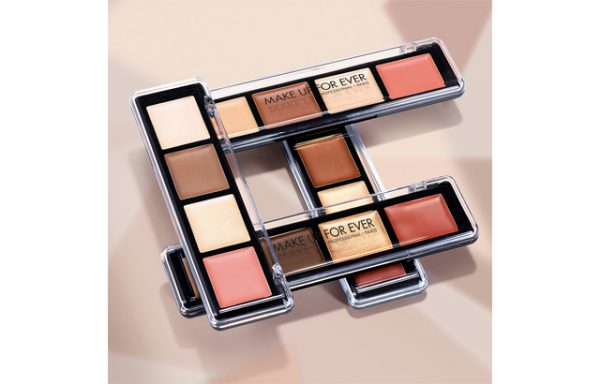 For now, I'm done reaching for a bunch of different products to contour and highlight on my face.  All I need is the Pro Sculpting Palette by Make Up For Ever.
Created with makeup artist in mind, this palette has four creamy colours that can help you highlight and contour easily.  
The four colours are a cream highlight, a contour colour in a brown shade, a shimmery highlighting cream, and a colour that can be used as blush or as corrector.  
The creams are super pigmented but need the warmth of your hands to really blend into the skin.  Once on, they set and have superb lasting power on their own.  What I really love is that there's a creamy highlight and a shimmery highlight.  The cream works well to brighten up the eye area, and the shimmer is great for the tops of your cheeks to catch the light.  
I'm not using the colour included as a blush – it's peach and I'm not feeling a peach blush these days.  I'm more into a pink or a brown, but the peachy works well to combat dark circles under the eyes and I can use it sparingly for that. 
Pick up the palette as Sephora stores for $54.