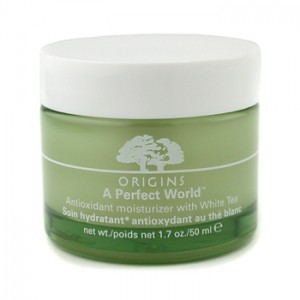 I really liked the Origins A Perfect World Skin Guardian, which is their serum for this line, so I thought I'd try out the antioxidant moisturizer from the line when I ran out of my usual moisturizer. It uses ferment of sugarcane as the antioxidant ingredient, murumuru butter to raise the skin's moisture barrier, and rose fruit oil to hydrate. It also contains vitamin c, one of the ingredients I always look for because it helps to brighten and even out skin tone, as well as centella asiatica to firm skin. Also, this smells really nice.
The first thing I found was that a little goes a LONG way. I was using the Skin Suardian, and probably way too much moisturizer because I found that it was giving me these little bumps on my skin.
I like Origins, so I decided to give it another shot before disregarding it as a crap product. Plus, this antioxidant moisturizer won the Allure editor's choice award, and I really didn't think they could be that off base.
So I started using the serum in the a.m. by itself with just sunscreen on top, and then the moisturizer in the p.m., with a lighter serum. This produced fairly good results. The little bumps disappeared, breakouts happen very rarely, and my skin is a pretty nice, even colour all the time. Now, I would assume that the serum, (Skin Guardian,) and the moisturizer are meant to be used together, but I found that together, they were way too heavy, and I have pretty dry skin.
So to conclude: this moisturizer is not recommended for oily skin. Even used sparingly, I found that it absorbed fairly slowly, and was still really hydrating. It sort of leaves a light layer on your skin, which I think would be fantastic for dry skin in the winter. However, tread carefully if it's summer, or you have combination/oily skin because as I said, a little goes a long, long way.