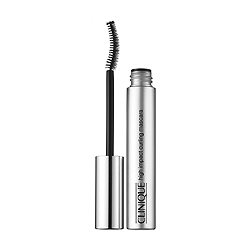 So many readers with straight lashes complain that they can't wear mascara because it weighs them down and gets in the way of their vision.  They want long lashes that curl up instead of drooping down.  What can you do instead of using a contraption, oops, lash curler is try a curling mascara.  There's no guarantee that it'll work but you can try and this latest mascara really worked on my lashes.
It's Clinique's High Impact Curling Mascara.  One coat makes your lashes go up and since this mascara is long-wearing, your curl will last the whole day.
This is one of those mascara's that covers your lashes in "tubes" so you just need water and some rubbing for it to come off.  It's not for everyone, but what it means is that this mascara does not budge until you want it to.
The High Impact Curling Mascara is available online!
$26.