Today, we continue to focus on unique gifts, and this one is suitable as a hostess gift or to give to someone at work so they can put it in their office.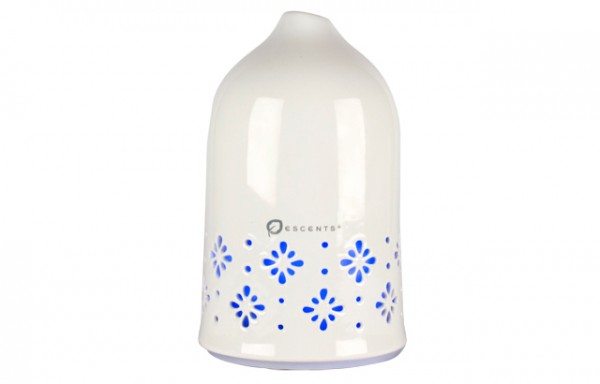 It's the Escents Aura Ceramic Aroma Diffuser. A humidifier, lamp, and aromatherapy diffuser in one, this Aroma Diffuser is very pretty and has a calming effect on anyone that sees it. The lamp changes colours, or can be set to any colour you want. If you want something less distracting, there's also an option to turn the lamp off and just have a nice cool mist of air come from the diffuser.
Because this diffuser is meant to provide aromatherapy, it does so without any heat – that way any essential oils that you place in the diffuser don't get effected by any heat.
The diffuser is said to provide aromatherapy for up to 500 sq. ft. of space, but I've found that it scents my whole house if I leave it on for a longer period of time. Because you're placing drops of essential oils into the diffuser, along with some water, it's very easy to control how strong you want your scent, and the stronger your scent, the further the aromatherapy seems to travel in the air. It has the capacity for 100 ml of water and with that it can run for 5-6 hours – that's a big chunk of the day!
Pick it up at Escents stores or online. $85.