I can't believe I've had A313 in my medicine cabinet for over a year, and people are still asking me about it.  So here's everything you need to know about it!  I'm going to write a tips post about using A313 soon, so stay tuned.
Somewhere on the interwebs (reddit? maybe?) I came across the mention of A313, a retinol available in France that one could get on Amazon.  What made it unique was the pomade texture, something I hadn't come across before and what I thought would be luxe and hydrating. It's actually a rename of the former Avibon, but this version is lower in concentration and is the only one available.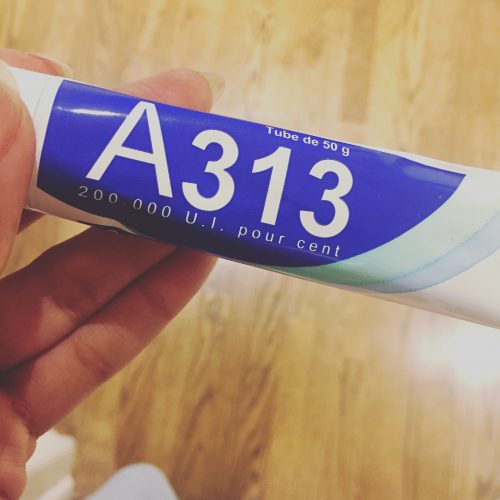 It comes in an aluminum tube and you get a tiny amount.  Don't worry though – you won't be racing to order a backup, because you need just a pea-sized amount for your entire face. 
The texture – ah yes – pommade.  Turns out that pomade feels a LOT like Vaseline.  Thick and glossy, this is a treatment you'll only want to wear to bed.  It's also kind of sticky (which Vaseline is not) so it takes a little warmth and patience to work it into all areas of your face.
My skin is more used to glycolic acid, which I use almost every single day, so when I applied the A313 my skin was super itchy, especially around my mouth.  It was actually so itchy that I had a hard time not touching my face, which is never a good idea. So itchy that I kind of didn't want to use it again. But I waited a couple of days and then reapplied.  Same effect.
After a couple of days, I applied a face cream first (with no actives) and then applied the A313 and this time I had no itching.  Thank goodness.
After a week of use, I definitely had brighter skin – but I also saw some breakouts which I never have, and I'm going to chalk it up to the texture of the cream.  People say that any exfoliant can cause breakouts to come to the surface of the skin, but I've never had this happen before so I'm pinning it on the pomade texture which I think my skin just doesn't like, it being oily and all.
There's no doubt that A313 does work.  My skin was peeling even though I was only using it a few times a week, and I had to use extra moisturizer to get rid of that dry and tight feeling.  Right now, I'm not using it every night, and I'm looking at Retinol alternatives to give my skin the clearness I want.
Have you tried a retinol in your skincare routine?  What effects did you see? 
You can get this on Amazon!