I love a dark shimmery smoky eye rather than one that is matte. A smoky eye needs depth, and some shimmer can add lightness to the eyes instead of making them overly dark. That's why when I saw these images of the L'Wren Scott show, I needed to know how I could do my smoky eye like that. It turns out that the makeup was done by Aaron de May for Lancome, and was inspired by a glam rock kind of feel to go with L'Wren Scott's feminine yet structured clothing.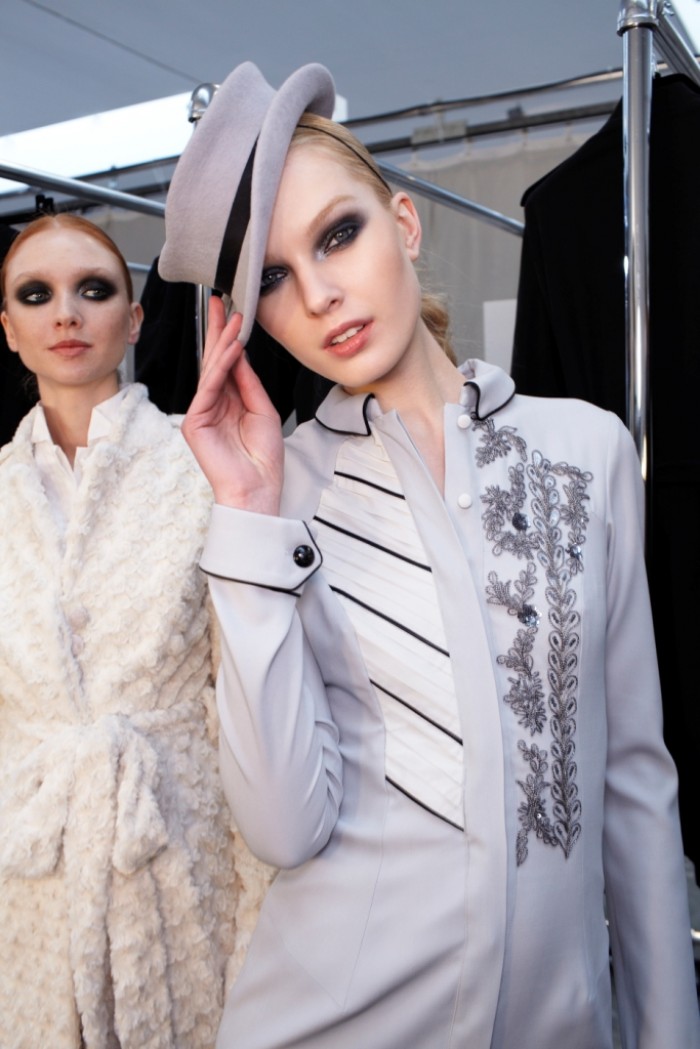 Here are the products that Aaron used on the models – scroll down more for the tutorial on how he used them.
THE PRODUCTS
Lancôme Teint Idole Foundation
Shu Uemura Loose Powder in Colorless
Lancôme Ombre Magnétique in Black (coming Fall 2010)
Lancôme Ombre Magnétique in Silver (coming Fall 2010)
Lancôme Le Crayon Khôl in Black Ebony
Lancôme Hypnôse Drama Mascara in Excessive Black
Lancôme L'Absolu Rouge Lipstick in Rich Cashmere
Lancôme La Laque Fever Gloss in Sensation (coming Fall 2010)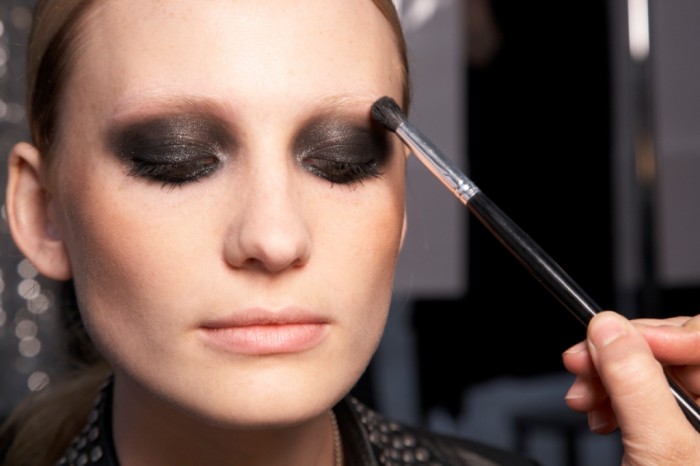 Here is how Aaron used the products to create this smoky glam look:
"After prepping the skin, Aaron applied a layer of Teint Idole foundation with his fingers, then added a layer of Shu Uemura loose powder for a matte finish. Aaron used Blush Subtil in Shimmer Mocha Havana on the apples of the cheeks and along the cheekbone, all the way to the hairline. The result was a major cheek.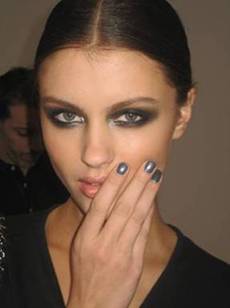 Next came the eyes, the most dramatic part of L'Wren's make-up look. Aaron used Ombre Magnétique in Black from his upcoming Fall 2010 collection all over the lid and all the way up to the brow bone. Then he used the silver Ombre Magnétique shade around the tear duct to catch the light and add impact. (Ombre Magnétique, a gel-like shimmery shadow, was Lancôme's standout product for the fall shows. The artists at Chris Benz and Victoria Beckham also used it.) Le Crayon Khôl in Black Ebony was used along the waterline. Multiple coats of the new Hypnôse Drama mascara on upper and lower lashes completed the look. (Hypnôse Drama was also used at Chris Benz and Victoria Beckham, making it our Fall 2010 fashion week mascara!)
Aaron kept the lip color neutral so as not to distract from the hypnotic eyes. He used L'Absolu Rouge in Rich Cashmere over which he put La Lacque Fever in Sensation, a glossy nude shade coming this fall."
I love the manicures that go with this look – the smoky blue grey is a perfect match and looks so pretty!  I want this colour and I know that it's going to be on counters in the fall.