I mean, this is a gift that you would want to get for someone very special in your life, but it's also just so pretty that I totally want to keep it for myself. Acqua di Parma's Colonia Sandalo Holiday Set ($273) is one of those, because of the beautifully illustrated hat box that it comes in. The set includes a 100ml Eau de Cologne Concentrée, Shower Gel and Candle, all of which smell completely like the rich woody fragrance. Truly, the gift set is a good deal – the bottle of perfume itself retails for $273, so if you're going to get a scent anyway, you may as well get the gift set and get the candle and gel included, and the packaging is beautiful. The illustrations on the box are done by British artist Clym Evernden, which is kind of cool considering that Acqua di Parma is an Italian brand.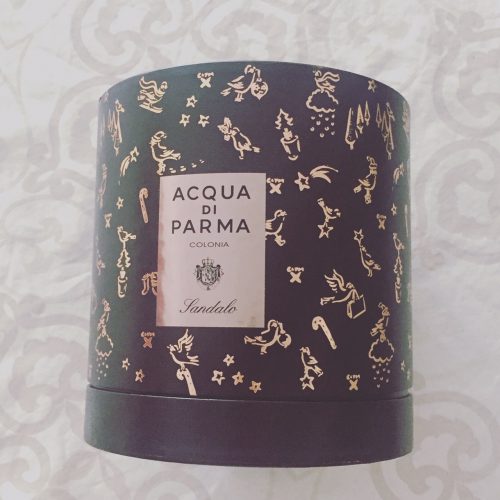 Now on to Colonia Sandalo…
I don't normally like classifying scents as being for a gender, and a lot of high end perfume brands don't either, but I do feel like Colonia Sandalo is quite masculine. Maybe it's because it reminded me a lot of my dad, and also because the scent feels quite heavy to me.
There is a sandalwood note in this fragrance, but also heavy amber, and tonka which made it so round and gourmand. The opening notes of bergamot, lemon orange, and petit grain are quickly overwhelmed by the sandalwood and the bit of cardamom in the middles notes makes it even more of a gourmand scent. The perfume is at once dark and deep which makes it perfect for a winter's day.
The Eau de Cologne Concentree lasts a really long time. I got a full day of wear with just one spray, and I could smell it on myself at bedtime – in fact, so could my kids which is telling. Of course, it's the notes in this that make the difference too. Gourmand notes have a way of sticking to my skin like nothing else does, and that's ok.
The candle is absolutely beautiful and can scent a whole room, and the shower gel is nice to use in your hair so you can layer the perfume.
Truly, this is a wonderful gift for the fragrance lover in your life.
Available at Holt Renfrew.