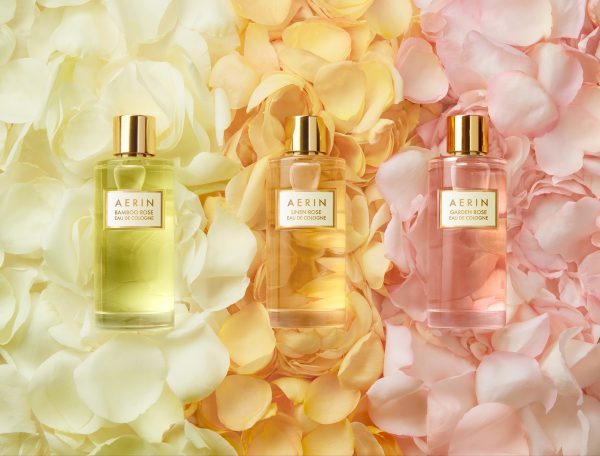 I've been a huge fan of the Aerin brand for a whle now – I love the simplicity of her concepts and the entire obsession with florals in all things really speaks to me.  The gold packaging is classic and chic, and missed in a time when so much is black and very trendy.
The latest launch from the brand is a Rose Cologne Collection, feature the beautiful scent of roses in three different incarnations.  Obviously, if you're not a Rose fan, then this isn't for you, but I've loved the smell of roses since I was a little girl and saw my mom and grandma cultivate various varieties in their own gardens.
There are three scents in the Rose Cologne Collection: Garden Rose, Linen Rose, and Bamboo Rose.  The collection is available in huge bottles of cologne, meant to be spritzed generously because it's so light, but the collection also includes rollerballs, and tinted lip conditioners in three shades.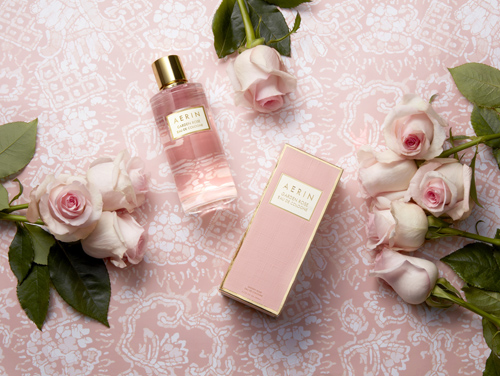 I have the Garden Rose cologne, which is abright sunny floral that's got a hint of amber which makes it a little sweet, and a powdery musk that grounds it.  The scent really reminds me of Stella McCartney's Stella perfume, which I wore for many many years because of its rose heart, but this is more light, fleeting, because it's a cologne.  I can't wear it as a body mist or excessively because I'm just not that kind of perfume wearer, but I like this sprayed lightly on clothes to refresh or on hair where it's less likely to warm up the way that it would on my body.
The big bottles of the Eau de Cologne are $215, Lip Conditioners are $34, and Rollerballs are $36.