…so I've slowly come to love Aerin Lauder Beauty.  If you're the kind of person who likes wearable basics, and always need to update, this is the line to check out.  There will always be a wearable natural lip, a pop of colour, easy shades for cheeks, and natural sandy tones for the eyes.  Think of it as your basic white tee: even though you already have one or more in your closet, there's always room for more, and you could always use another in an update material or fit.  That's what Aerin's line is for makeup.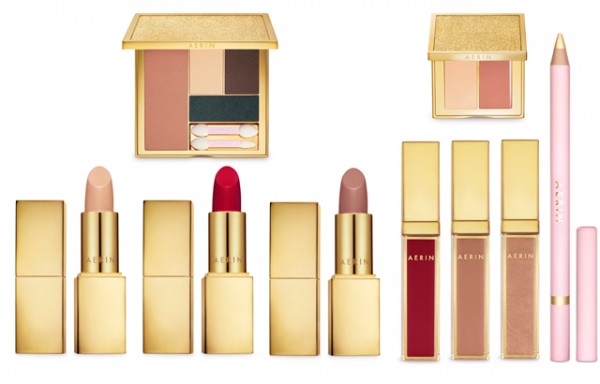 The Midnight Color collection is no exception.  Out for holiday, this collection takes gold tones as its base, and accents with beige neutrals, pops of red (fitting for the holidays), and a bit of pine green.
The Winter Color Palette ($78) has gold and emerald powder shadow, paired with a brown cream.  Soft rose blush completes the look.  A cream color compact for lips and cheeks ($48) works as a  blush/bronzer/highlighter with its shades of gold and bronze, and the lipgloss ($34) and lipsticks ($34) come in three shades: gold, warm beige caramel, and red.  I love that the lipsticks and glosses are coordinating because they're so easy to wear together.  I particularly love the easy nude look of the caramel tones: Jacquard for the lipstick and Golden Kiss for the gloss.  They're perfect for everyday or with a smokier eye. A cool gel eyeliner in Gilt (gold) ($34) is perfect for anyone wanting to add more oomph to their look.
You can pick up the entire collection for a limited time at the Estee Lauder counter in Holt Renfrew Toronto Bloor Street, Yorkdale, Calgary, Vancouver and online at www.esteelauder.ca.