Check out my newest cleansing oil: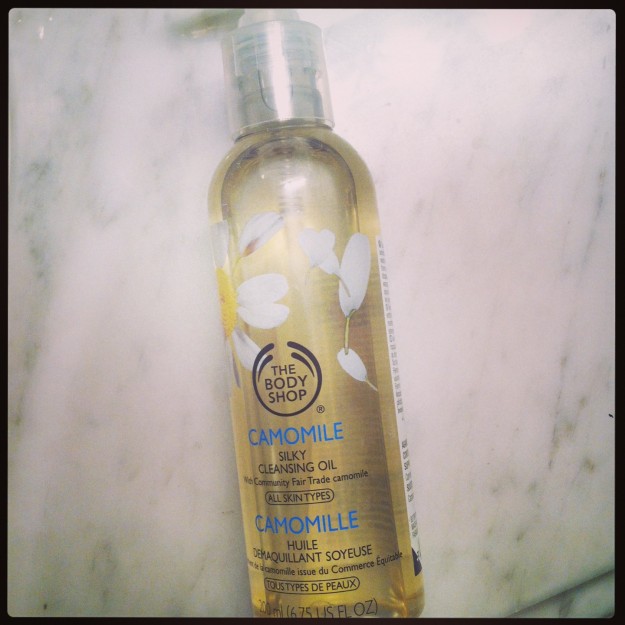 New from The Body Shop, this Silky Cleansing Oil works just like more expensive versions from Shu Uemura and Dermalogica, but comes for only $12.  Like those cleansing oils, this basically blends with other oils on your dry skin, and rubs off any and all kinds of makeup an impurities.  Add water to the mix, and the oil emulsifies and rinses clean taking all the gunk down the drain with it.  Dermalogica calls theirs the "Pre-Cleanse" and for good reason.  It's nice to be able to get everything off your face, and then follow up with a real soapy cleanser to really have a nice fresh clean.
Truth be told, the Body Shop Silky Cleansing Oil is cheaper… and it feels cheaper too.  Although there's "silky" in the name, the oil itself feels like it has some very fine grit in it and doesn't go on as smoothly as the most expensive oils.  It also leaves more of a residue than those oils do, which means that it's doubly important to follow up with a foaming cleanser, but I did that anyway.  The pump I got is also a little sticky, so I have to push down really hard, and then a whole bunch of the oil sprays out – not a fan of that.  You can tell that this isn't a luxury product… but it did only cost $12, so nothing wrong with that.
Still, its makeup-removing properties are fantastic.  It takes off long-wearing mascara and eyeliner, and really all and any foundation.
Check out this oil, and other new lotion-type cleansers at The Body Shop now.