Believe it or not, you don't have to go to the dermatologist or your local med spa to get really clear luminous skin.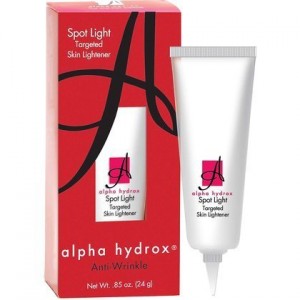 Every summer I ease up on the foundation so I want skin that's naturally free of blemishes and scarring. I really like using a product with hydroquinine in it because it lightens acne scars and sunspots. The best thing you can do is find an HQ product that has either sunscreen or an alpha hydroxy acid in it because the former will protect you from new scarring while the latter will exfoliate before letting the HQ penetrate.
Alpha Hydrox's Spotlight Skin Lightener has the AHA in it along with 2% HQ. Both ingredients are shown to work especially well together, and I noticed a difference in my skin within a matter of days. In one week, I was a believer, and if you have problematic skin, you will be too.
The best part is that this product – which works! – is LESS THAN $10 and can be bought from the Alpha Hydrox website. Thank me later.
And if you use this, stay out of the sun!