On the radio this morning, a listener called in and said that if you want it to feel like summer, you should just wear sunscreen that smells like that beachy coconut scent so that you feel like it's hot enough for it, even though it's not.
This listener obviously isn't a regular sunscreen wearer, because if they were, they would have known that the latest sunscreens actually don't smell like anything and that's partly why they're so easy to wear.  I mean, yes, Coppertone still exists, but even they have sunscreens that don't smell like they used to.
Sunscreens have come a long way.  Now there are mineral-based sunscreens and there are chemical-based ones. The problem with the mineral-based sunscreens is that they usually go on quite white on the skin and therefore, aren't great for the face because they can make you look ghost-like. Chemical-based sunscreens aren't always good for your body because there are sometimes ingredients that are easily absorbed and can be harmful.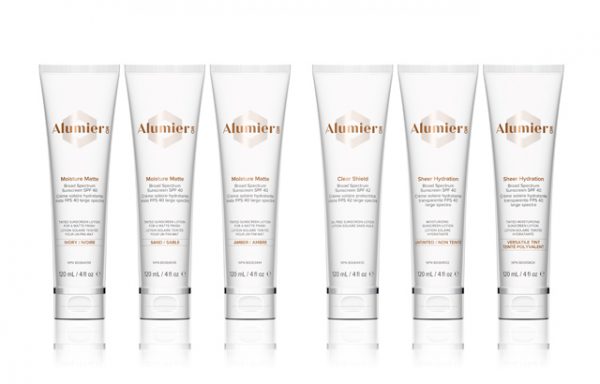 AlumierMD is a new brand of sunscreen available in Canada that is mineral-based and elegantly formulated so that it suits almost any type of skin. There's no annoying scent, and the formulas go on so smoothly that you can apply makeup on top.  There are a few difference formulas available, and it's available in a variety of tints too so that you can truly wear it without worrying about it looking obvious.
There's MoistureMatte (available in 3 colours, SPF 40), Clear Shield (SPF 42), and Sheer Hydration (available in tinted and untinted, SPF 40). I really wanted to like the MoistureMatte, especially because there are a variety of tints available, but the problem was that Sand – the colour right in the middle, which would be the closest to my foundation shade – wears a little on the salmon side, instead of being warm, and so I can't wear it in place of my foundation.  If anything, I can wear foundation on top of it and the extra layer of coverage makes my skin look extra good. Still, I like to wear a sunscreen that I can apply without thinking too much about blending it out, and so the MoistureMatte isn't for me.
I really loved the Clear Shield and the Sheer Hydration.  The Clear Shield really does go on almost clear, and there's a tiny bit of whiteness that I can see, but I apply sunscreen all the way down my neck too, so it wasn't too noticeable.  It has a satin finish and doesn't feel greasy but it's not super dry either.
Sheer Hyration in the tinted and untinted formula is awesome too.  It is slightly hydrating but not so much that it feels greasy.  I apply foundation and powder on top and my makeup seems to last the whole day, so I was happy with this sunscreen too.
If you're looking for a line of elegantly-formulated sunscreens, check out AlumierMD.
You can purchase the sunscreen through skincare professionals – go online to find one near you.