First of all, let me start by saying that this is not a real peel.  My skin doesn't peel when I use this, and if you go to a dermatologist and get a peel, you will find yourself with flaking skin within a couple of days, and most "peel" products out there don't make this happen.  Probably because consumers aren't really ready for it even if they think they are, and don't know what to do if/when their skin does start peeling.
However.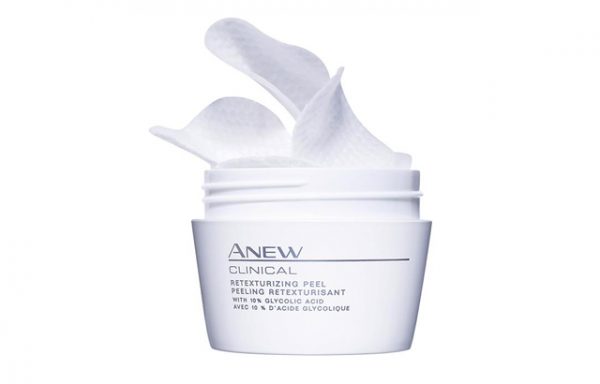 The Anew Clinical Retexturizing Peel is an excellent way to add glycolic acid into your skincare routine.  It gives you 30 pre-soaked pads that you smooth on to skin after cleansing and before moisturizing.  The solution is 10% Glycolic Acid which is an old stand by and really makes skin nice and smooth.  It's great for lightening acne scars and after the 30 days of use, you should notice a difference.
As with any product that speeds up cell turnover, it's best to sunscreen when you're using these, so that you don't end up with sunburn or more discolouration due to sun damage.
My skin is used to exfoliation, so I actually use these twice a day – in the morning and at night – and my skin is doing fine, but if you're new to acids, then use them every other night to start, or even just once or twice a week, and then build up to using them every night.  First-timers might experience a stinging sensation, or redness, and if it doesn't go away, just wash your face.
Also – these don't break the bank: $24.99
online
.