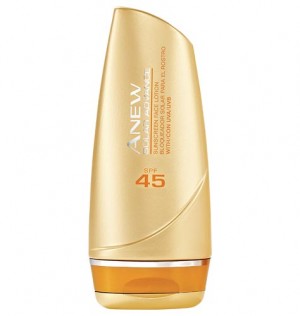 The summer months are here (even though I do leave the house wearing a jacket every morning) and that means my renewed obsession with finding the perfect sunscreen.
I tried ANEW SOLAR ADVANCE Sunscreen Face Lotion SPF 45 which is on sale right now for $24.
This sunscreen was very moisturizing and a touch more oily than I'd like my face products to be.  Still, I found that it was smooth and really easy to apply with a pleasant scent.
The sunscreen also felt very lightweight though it didn't totally absorb into my skin until a full 5 minutes after application.
Regular Avon consumers can't go wrong with this, especially if their skin is on the dry side.