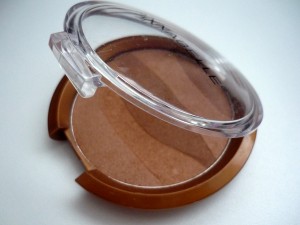 I know it's almost the end of summer, but hey. Who says you can't be a pretty bronze all year round?
Annabelle Zebra Bronzing Powder might be one of my favourite bronzers to date. It's kind of a cross between a really shimmery bronzer and a matte contouring bronzer. Salesgirls at makeup places always try to sell you on shimmery or glittery bronzer for contouring and that doesn't fly with me. Let's remember that contouring is meant to recede an area, and shimmer does the exact opposite.
I really liked this bronzer because you can actually do both with it. It has a slight shimmer, so it's pretty as a straight bronzer for cheekbones and such, but it's matte enough that you can also get away with contouring as well. Win/win!
If you like really shiny bronzer, this probably isn't for you because it's not going to give you that dewy look, but I love it. It gives you a nice, effortlessly healthy glow, and is one of those colours that can be used by all skin tones. Also, it lasts a pretty long time, which is always a plus.