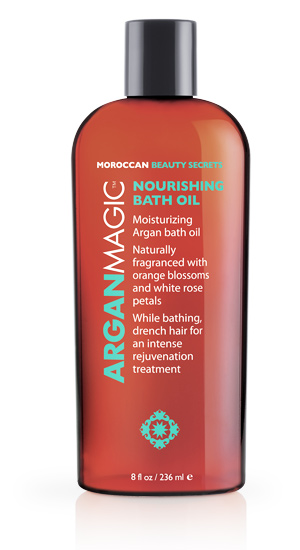 I am a huge fan of bath oil used after a shower because it's a quick and easy way to moisturize. It has become my favourite method to moisturize this winter because it saves me from rubbing moisturizer into my skin, which can often leave me sticky or overly greasy.
My new discovery is Argan magic Nourishing Bath Oil. This oil is clearly capitalizing on the success of other Argan Oil brands such as Josie Maran and the ever popular Morroccanoil, and the truth is that the primary ingredient in this oil is in fact mineral oil!
The oil does contain mineral oil and argan oil, but you can bet that it's the mineral oil that does most of the moisturizing in this formula.
The oil is one of those that turns into a lotion when it's applied on wet skin. You can let the lotion soak in, or gently pat it dry with a towel. Some of the oil does get left on your skin, and if you've applied it on damp skin, you can be sure that much of the moisture is sealed in!
I actually didn't mind that this oil contains mineral oil, and I really liked using this bath oil because of the scent (orange blossoms and rose petals!), and because it WORKS!
Argan Magic is sold through TheShoppingChannel.com and retails for $25.