Friends, it's products like this one that makes me happy to be a beauty blogger because sometimes I find the most amazing things and get to share them with you.
In this case, it's a hair dryer. Truly, this is the tiniest hair dryer that I have ever come across and so I was wary of even using it. I mean, would it break in my hands, and would it give me the hot heat that my hair needed?  I mean, check out the picture of the hair dryer below.  Compare the size to the regular-sized straightener.  See how much smaller it is?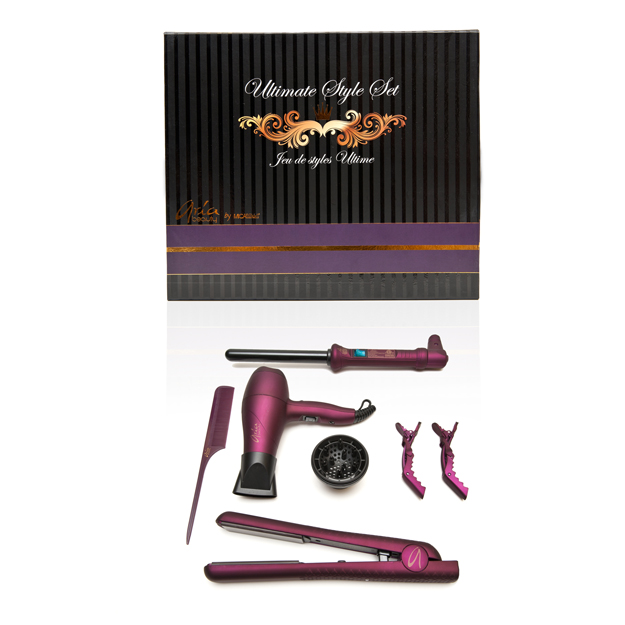 Well, I'm happy to say that although this hair dryer is tiny, it packs a punch in the drying department. It has two settings for speed (slow and fast), and provides lots of heat and power to dry your hair. What makes it extra special is that because it's so small, it's also very light, which means that your arms don't get tired while using it and you can really focus on drying your hair properly.
The only thing this dryer is missing is a cool air button (especially helpful if, like me, you sometimes break out into a sweat after all the work and need to cool yourself off), but the dryer is good enough to keep using. Also, if you like using a diffuser, it is on the small side like the dryer and it will take longer to divide your hair into sections and diffuse it properly.
All that said, I'm torn between whether to save this hair dryer for vacations or use it daily. I love it enough to use daily but I don't want to wreck it before vacation time comes!
This tiny hair dryer is part of the Aria Beauty Ultimate Style Set, the entirety of which costs $299.
It includes a 100% ceramic 1″ straightener, a 19mm ceramic/tourmaline styling wand, the 1600 watt mini blowdrier, a mini diffuser, 2 professional strength clips, and a tail comb. It comes with a heat resistant glove for use with the styling wand, plus directions and warranty info in 4 languages.  All tools are dual voltage for use anywhere in the world and come with lifetime warranties
You can purchase Aria Beauty products at the Fairmont Willowstream Spa, as well as these Vancouver retailers:
Pink Lime Salon
Manifesto Aveda Concept Salon
Sebastian One Salon
Willowstream Spa at the Empress
Lure Salon
Farfalla Whistler
More retailers across Canada are coming soon.