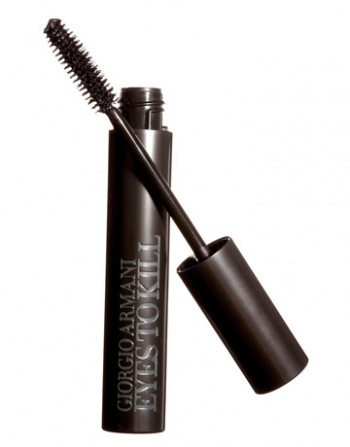 You all know that I have a thing for mascara, and especially love mascara that leaves lashes fat and plumped up.  Volume is the way I like it, and my lashes need to be major!
I've tried Armani's Eyes to Kill Mascara, and love it so much that it's the one I'm reaching for on a daily basis.  Yes, it gives you great voluminous lashes, but the brush ensures that you can reach even those teeny tiny members of your fringe at the tips of your eyes.  The result is a nicer, fuller, almost curled fringe that gives a pretty and doe-eyed look.
Also great is the fact that this is truly a light-weight mascara.  Your lashes won't feel heavy because of the volume that this provides, and it's pretty revolutionary in that sense.  No mascara ends up under the eyes at the end of the day, yet cleanup is a total snap, so gotta love that!
The cost of this mascara is prohibitive – $34 – but if you want fool-proof application and good wear, then you just gotta have it.