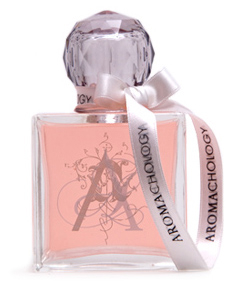 This summer while I was in Toronto, I had a chance to visit Aromachology's head offices to build my own personal scent.
Aromachology is company that helps people build their own scent using a questionnaire, and taking into account their personal scent likes and dislikes.   The scent mixing is available online through their website, or at their counter in Henri Bendel's in NYC.  Needless to say, it was a treat to visit their studio and try the scent mixing for myself.
I filled out the questionnaire (questions that seemed mainly about my style) and then my mixologist, Kirsten, took me through their different scent bases so that I could see what kind of notes I liked.
Kirsten and I picked a base perfume (floral, gourmand, oriental, fresh, and woodsy) and then we went through individual notes to add to the base.
The thing about choosing the notes was that each had an interesting label.  Instead of telling you exactly what you were smelling, the labels conveyed what you should be experiencing or feeling when you smelled each note.  The notes were sensual, calming, exciting, etc.  I loved this idea because it made sure that I left my personal likes and dislikes at the door and I really chose notes that I liked.  For example, I usually don't like vetiver and won't smell scents that have it as an ingredients, but with Aromachology, there was no way of knowing what was in each scent note unless Kirsten told me.
Kirsten then mixed the base with the notes I had chosen (they're in the form of essential oils) with my perfume base to make my custom perfume blend.  Because there is so much oil added to the base (which is already itself an eau de toilette), the final product has the concentration of an eau de parfum – although they can make your blend as strong or as light as you wish.
All in all, the entire scent mixing process took only 20 minutes, and my final scent smelled amazing.  I wasn't sure about it in the store, but when I got home and used it, I couldn't stop smelling myself and my family definitely loved how it smelled.
I adored the entire process because it's so customized, but most of all I loved that I walked out with a scent that's really "me".  My spicy, floral, woodsy blend feels comfortable like my favourite sweater, but is unique just like my own style. The perfume was so matched to me that I never felt like I was even wearing a scent and it never got on my nerves, no matter how much I spritzed on.
I walked out with a travel size of my perfume (which retails for $60), which um, I did take on my travels and finished before my 2 week trip was over.  I loved it that much.
A beautiful 100 ml bottle (above) retails for $160.
If you're looking for a new scent for fall and want something that's just perfect, you should definitely think about getting your own perfect scent made for you.  It's not the same as buying something made by a master perfumer, but the process is so fun and easy that there's a good chance you'll walk away with something you love and will wear for years to come.  Aromachology keeps the blend recipes that their customers have purchased, so if you ever need a refill, they are able to replicate it exactly whenever you want!
For more information and to purchase, check out the Aromachology website.