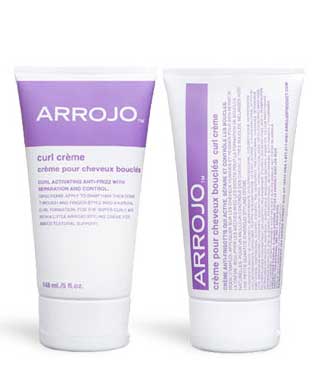 As many of you may know, I do have curly hair, and am always looking for a product that will define my curls but make them soft and light as well.
Recently, I came across Arrojo Curl Creme, which is sold at many high end salons, including Salon Donato in Toronto.
The product said: "Curl activating anti-frizz with separation and control. Rich moisturizing formula creates bouncy, voluptuous curly hair."
Obviously, this is something that I needed – I especially liked the bit about it being moisturizing.
The instructions say to just apply to dam hair and finger style, which is what I did.
Unfortunately, I did not get the results that I wanted from this cream.
The cream is super thick and sticky and was hard for me to come through my long hair.  Furthermore, it left my hair super stiff, tacky, and crunchy when I was done with.  I tried using less cream, I tried mixing it with a serum, but the end results just were not there.
Think of this as a gel for curly hair – it gives almost the same results, and I know that that's what some people want out of a curl product.  It does define curls and make them say a certain way, but it's not what I want from my hair.  In particular, I think this might be good for men who have curly hair and want that damp kind of look to their curls.
The price is affordable – $8 for 50 mL and $17 for 150 mL.
You can pick up Arrojo products through their website or at salons.