Take a look at some of the prettiest skincare products that I've ever come across.  This is the Aura Mirabilis line from Roger&Gallet, and it's based on a 300 year old skincare recipe.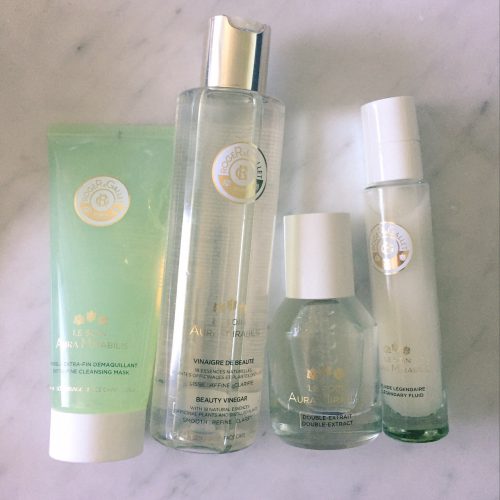 It all started with this double-extract dual-phase serum.  The recipe is partly based on Aqua Mirabilis which was created in France.  It was later renamed Eau de Cologne (because Cologne was where it was from), but basically it was a blend of essences believed to help revive the body.  It was used by kings and queens and later became popular with all who could afford it.
Roger&Gallet took the original recipe and took the 18 botanical extracts and blended them to create Le Soin Aura Mirabilis (above).
Those extracts are:
Sandalwood, lavender and geranium
Neroli
Lemon zest
Lavandin
Bitter orange
Sweet orange
Citronella
Damask rose
Palmarosa
Green mandarin
Lemon grass
Thyme
Exotic vervain
Magnolia
Rosemary
Bergamot
As you can see from the list, the extracts are all recognizable scents, and so it's no surprise that Aura Mirabilis smells absolutely amazing. It's a blend of a water-based skincare base and oils that you mix together to create the perfect serum, that helps hydrate, brighten, firm, and tone.  It's quite moisturizing because of the oil and it works well on my skin to add a layer of cushiony hydration before I go in with a moisturizer.
There's also a new product called the Beauty Vinegar which is another dual phased product. Think of it as a toner or micellar water, but with fruit vinegar instead of water as the base.  It helps get rid of residue, tone, and refresh your skin.  You apply it after cleansing and then follow up with a serum or moisturizer. Don't worry – this smells nothing like vinegar or fruit, but instead more like the blend of fragrant oils that makes up some of the formula.
Finally, there's the Extra Fine Cleansing Mask which is moisturizing so you can wear it on your skin for a while, or use it to wash away the day.  It goes on as a smooth gel and emulsifies to a milky cleanser that's adept at removing makeup.
You can find some Roger and Gallet products online at Amazon, but sadly this line isn't available there.