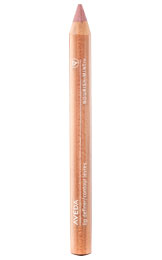 I've been wearing more lipstick just because I've been in the house more and I like to look like I'm going somewhere even when I'm not.  My lipstick doesn't always stay put and if it's creamy then it bleeds and feathers.
My solution comes in the form of Aveda's Nourish-Mint Lip Definer. This is a vanilla and mint wax stick that creates a thick layer over your lips so that your lipstick has something to stick to. Though the Lip Definer is waxy, lipstick seems to glide over it smoothly and then just stays on.
The pencil is a sheer nude pink that neutralizes all other colours on your lips so that the lipstick colour is true and bright.
The comments on the Aveda site complain that this doesn't have much colour and that it's too waxy, and that's true. The problem is that this isn't a normal lip pencil and functions completely differently. It's not supposed to provide a base colour for lipstick, and it's waxy so that it can create a smooth layer on your lips.
When I use this I find that my lipstick lasts longer than usual, and wears more evenly so that after a couple of hours, all I need is a touch up. The best part is that my lips are moisturized the whole night even if my lipstick is super matte.
Pick this up at Aveda for about $30.