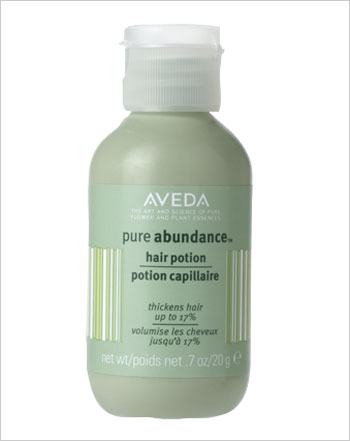 If you're bored with your regular hair style, you could begin to tease your hair for extra volume.  The best products on the market are actually hair powders that can add volume to your hair.
I'm not talking about the powder shampoos – rather powders that expand and hold once they're out of the bottle and in your hair so that you can add volume and actually have it last!
Aveda's powder, Pure Abundance, is one that's been on the market for ages, and if you've been to an Aveda salon, they've probably used it on your hair.
This powder expands into a lotion as soon as it touches your your hands.  The warmth is what makes it shift, so you can sprinkle it on your head and then use your hands to move it around before it sets.  The lotion can be used all over your hair to create a second day hair look, or you can use it just at your crown before you tease your hair to create some volume.  After you play with it, it's there for the entire day, and lasts until you wash it out, which is what makes it so great to use!  It lasts longer than hairspray or any other volumizing product out there!
This product will work on all hair types and a tiny bit of powder goes a long way!  It will give you the feeling of thicker hair.
Pure Abundance is available at salons that carry Aveda products, in Aveda stores, or online.
$36.