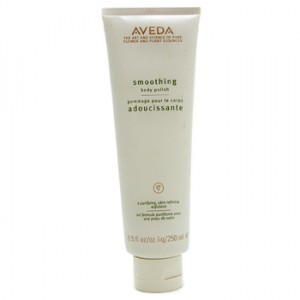 My new favourite bath time product is from the Aveda store.  It's a surprise because I never think of them as selling body care products even though I know they do.
The Smoothing Body Polish is magic, because it smells wonderful – like a spa, really – and because it's a finely grained polish that also foams.  So now, you don't have to soap yourself up before scrubbing.  You can get all that done in one go.
It's $31 for 250 mL but I'm finding a tube to last me quite a while – over a month or two, which means that it's better bang for your buck than most sugar scrubs, which seem to last only a week.
Pick it up at your local Aveda store.
And while we're on the topic, I have to mention that their body moisturizers aren't my favourites… they gunk up (for lack of a better word) when you apply too much, and when it comes to moisturizers, I always apply too much.