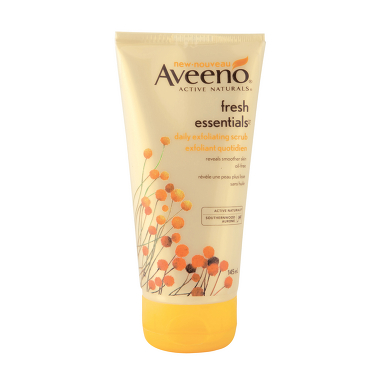 The next scrub that I'm going to review is Aveeno's Fresh Essentials Daily Exfoliating Scrub.  Some of you may remember that I reviewed their Nourishing Moisturizer a few weeks ago, and this product is from the same line.
The Aveeno Fresh Essentials scrub has actually loofah bits in it which is a push at a more natural scrub.  It is oil-free and foaming which means that it is not only good for exfoliating but it can remove makeup too.
The scrub is very concentrated which means that a tiny bit goes a long way to creating rich lather.  Unfortunately, when you only use a pea-sized amount of the scrub on your face, you don't get many scrubbing granules to actually exfoliate with.
Though I do appreciate that the loofah bits are natural, I did not like using them.  I found that they clung to my skin even after I rinsed my face, and I often found them still on my skin while I applied my makeup.   They also don't pack much of a punch when it comes to scrubbing and I didn't like that.
You can get this scrub at the drugstore, but I have to say that it's not my favourite and there are other good scrubs out there.