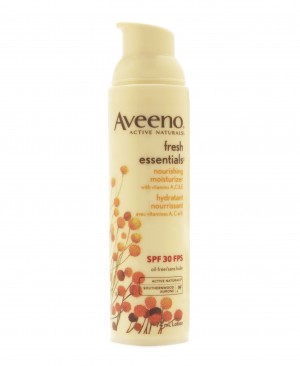 Aveeno has come out with a new line of face care products called Fresh Essentials. The theory is that these products actually help you get better skin because they are formulated with active ingredients that make a different on how the skin looks. Most of the products do have vitamin C and E in them which makes for clearer and more even-toned skin.
The product that was easy for me to fit into my skincare routine, and that would let me see a difference is the Daily Nourishing Moisturizer which is formulated with SPF 30 and vitamins A, E and C. I noticed that the vitamins are low on the list of ingredients which means that there's not a high concentration of them, but I'm glad that they're still there.
The face cream is very moisturizing and just slightly greasy if you apply too much. If you apply just the right amount, the cream sinks into the skin in about 5 minutes, and though your skin will not be totally matte, it won't look overly oily either.
After a few weeks of use, I have to say that I haven't noticed a huge difference in the tone of my skin just because of this cream. It works well as a moisturizer, and one with sun protection at that, and it doesn't leave a white residue on my skin either.
You can pick this up at your local drugstore.